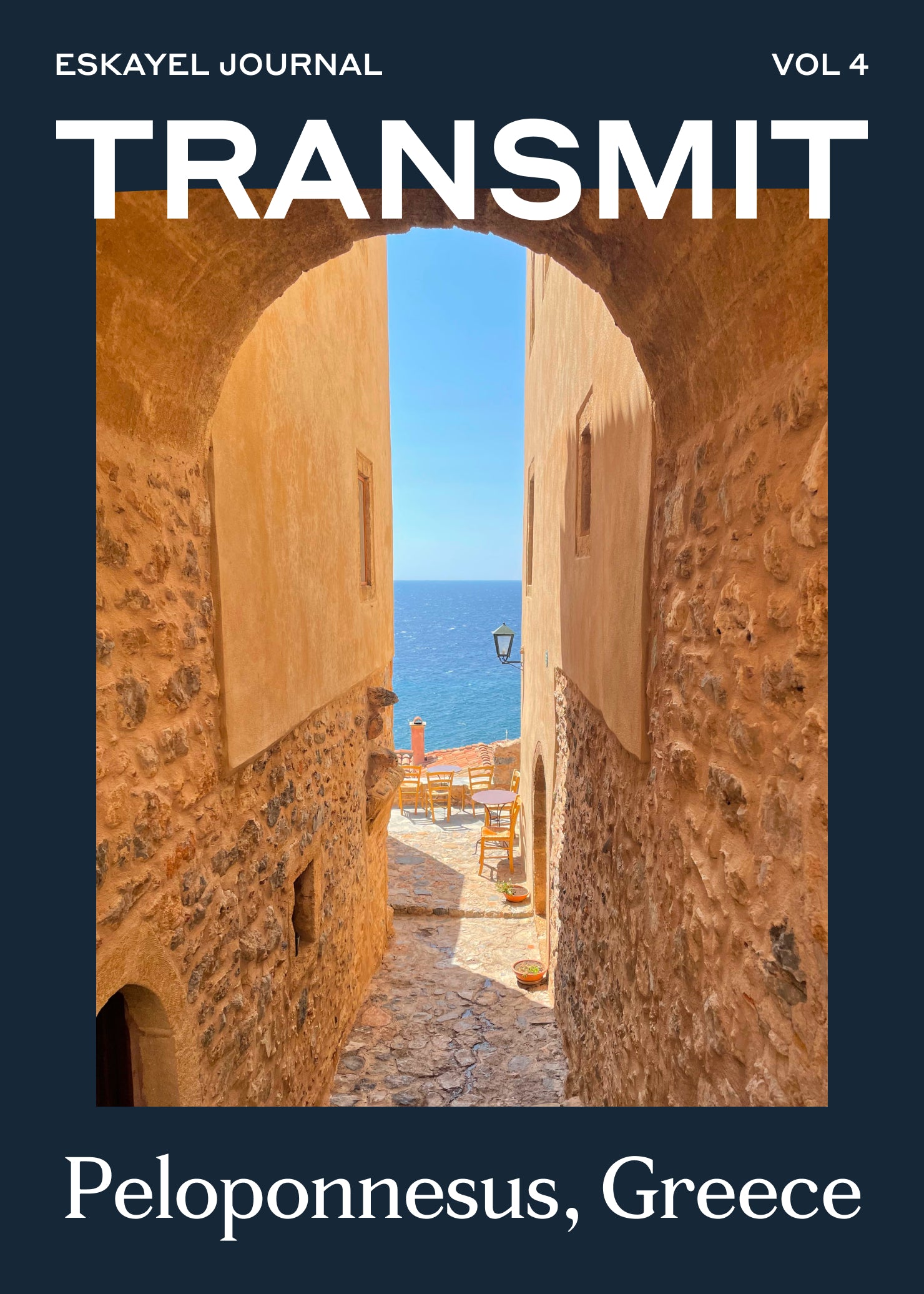 Peloponnesus, Greece
Before and after spending time with family, we stopped at incredible villages and towns along the Taygetus mountain ranges and the twisting coastline of the Myrtoan Sea. Our wanderings and the scenery we encountered inspired the Morea collection and the patterns Mani, Emvasia, and Aionas
Shop the Peloponnesus edit
"We first traveled to the Peloponnesus peninsula at the southern tip of the Greek mainland to explore where Nick's family originates. What struck me most about the region was how large and vastly unpopulated it felt. We found ourselves driving through totally uninhabited landscapes, which felt quite dramatic and wonderful. The terrain was extremely dry as it was August, so naturally we sought out the sea as much as possible…"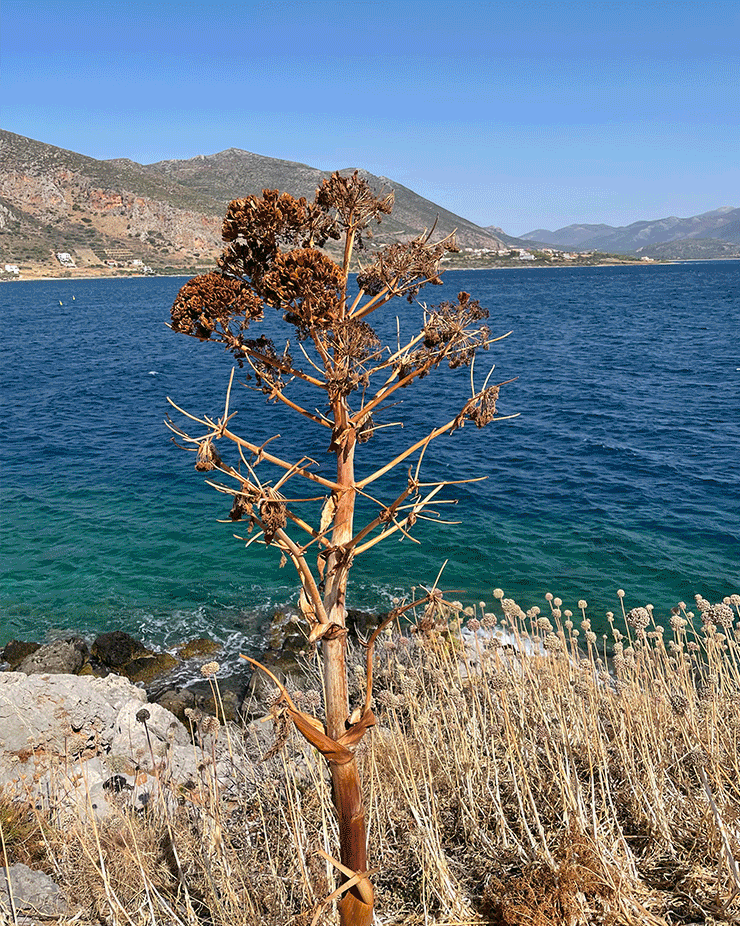 Monemvasia
This ancient walled town was our first stop. It's a beautiful little island connected by a bridge to the mainland. There's a huge rock in the middle and gorgeous ruins toward the top. I was really inspired by the fauna we encountered as we hiked – the century plants wound up in our Aionas pattern and the heather and brush of the hills can be found in my Emvasia design.
Athivoli

EAT

Super cute spot offering a contemporary take on Greek classics. Don't miss the top notch olive oil for sale.

Visit

Marianthi

EAT

Yia Yia's cooking in the center of the historic old town. Authentic, delicious, and original - every plate has history!

visit

Epithilion

EAT

In Foutia to the south and up on a picturesque hill, another essential stop for good eating.

visit
Elafonisos
Accessible by a quick ferry, this is another island with the most gorgeous white sand beaches and clearest blue water.  Depending on the weather it can be quite windy but it's incredibly picturesque. 
We spent the day at Simos Beach.
There are lots of restaurants right on the harbor but Ourania was our fave.
Kosmas

After staying with Nick's family in the mountains, we headed east towards the Myrtoan Sea. We stopped at this cute mountain village, which had the most beautiful piazza and the best Greek pastries.

Learn more

Myrtoon

Totally the best meal of the whole trip. About an hour's drive from Kosmos and set right on the sea, there's a real family vibe on the beach so you can swim after you eat.

Learn more
Travel tip:
I didn't get into Athens in this edit, but make sure you go to Acropolis and see a performance in the amphitheater - just not in August!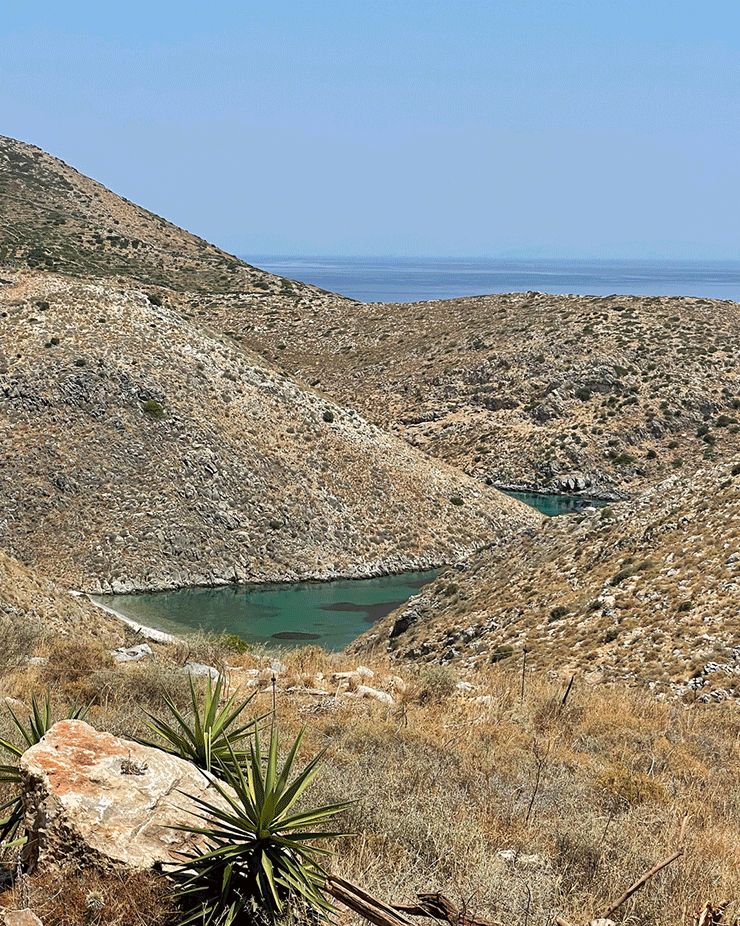 Mani
This peninsula has a very harsh history and a harsh rocky landscape to match. When you see the outline of the landscape meeting the sea, it's completely stunning. The shapes of the mountainous ridges against the blue water inspired the Mani pattern.
Vlychada Cave

Take a little boat through the cave and its amazing rock formations. So cool!

visit

Lighthouse Tenaro

A great hike all along the sea to the most southern tip of mainland Greece. Plenty of places to stop and jump in the water, and lots of dramatic cliffs and rocks.

visit

Vathi Beach

One of the most magical places to swim. When you drive to this ocean inlet through the cliffs, it looks like a pristine lake within the landscape. But it's actually the sea!

visit
Inspired by Peloponnesus, Greece