Regular price
$375.00/Single Roll
Regular price
Sale price
$375.00
Unit price
per
Sale
Sold out
Vertical Repeat:23.85" / Horizontal Repeat 9"
Select Colorway
Our wallpaper is based on original artwork and is printed  to order locally in the Northeastern U.S.
LEAD TIME: 4-6 weeks MINIMUM ORDER: 1 Roll 
Specs
- MATERIAL: Classic Clay Coated Wallpaper
- Printed with water based latex inks
- SINGLE ROLL SIZE: 27" x 15'
- Rolls are printed continuously up to a quadruple roll
- FLAME SPREAD CLASS: Class A (ASTM E84)
- SAMPLES: 7″x10″
Description
In a composition reminiscent of traditional woven textiles, the Biami pattern began as a piece of artwork in ink and watercolor named for the indigenous Biami people of Papua New Guinea. Look closer and you'll spot an anthropomorphic figure repeated in the design. Biami is available as luxury wallpaper, high-end fabric, and soft feather pillows. Nila is a colorway of blue on white.
View full details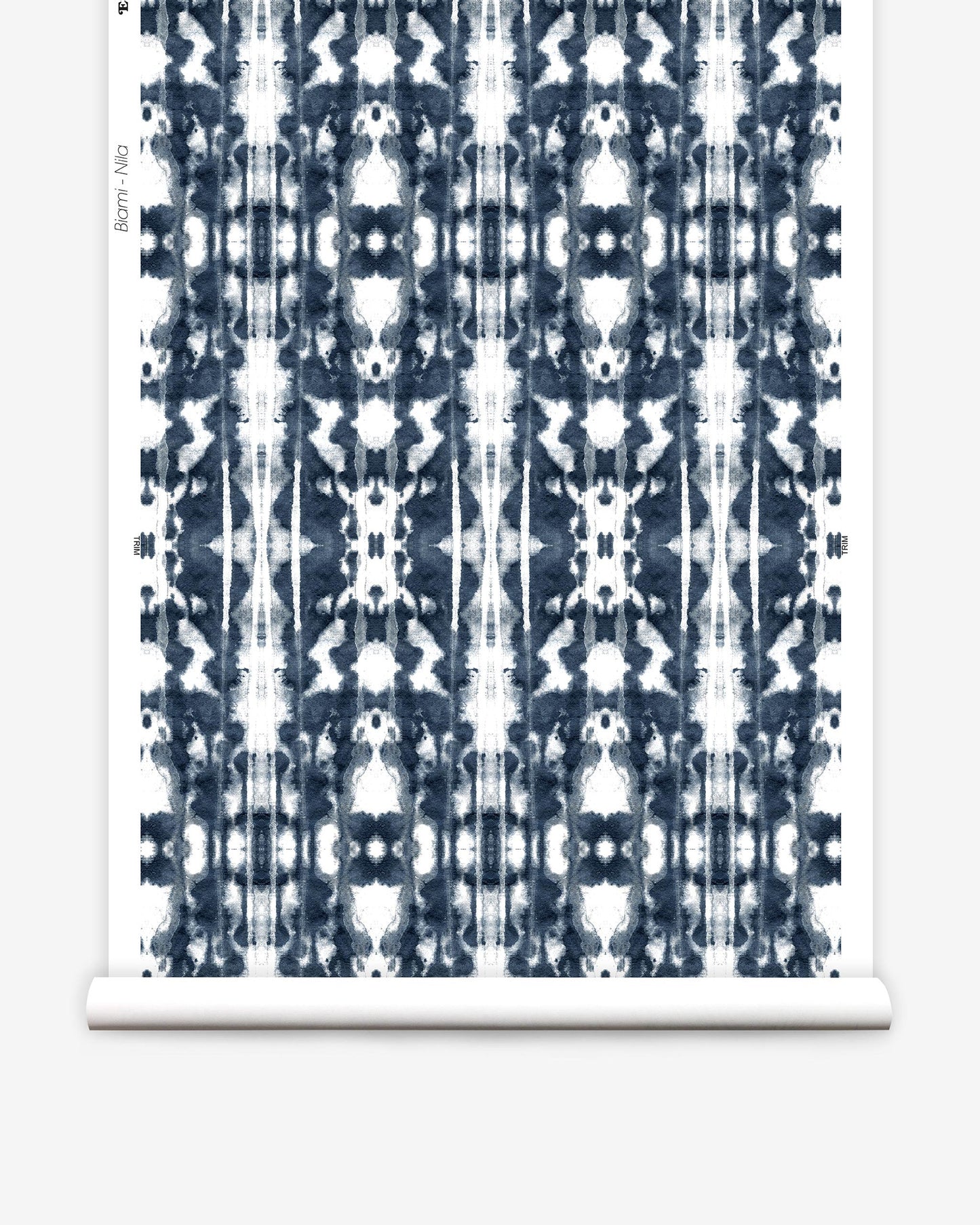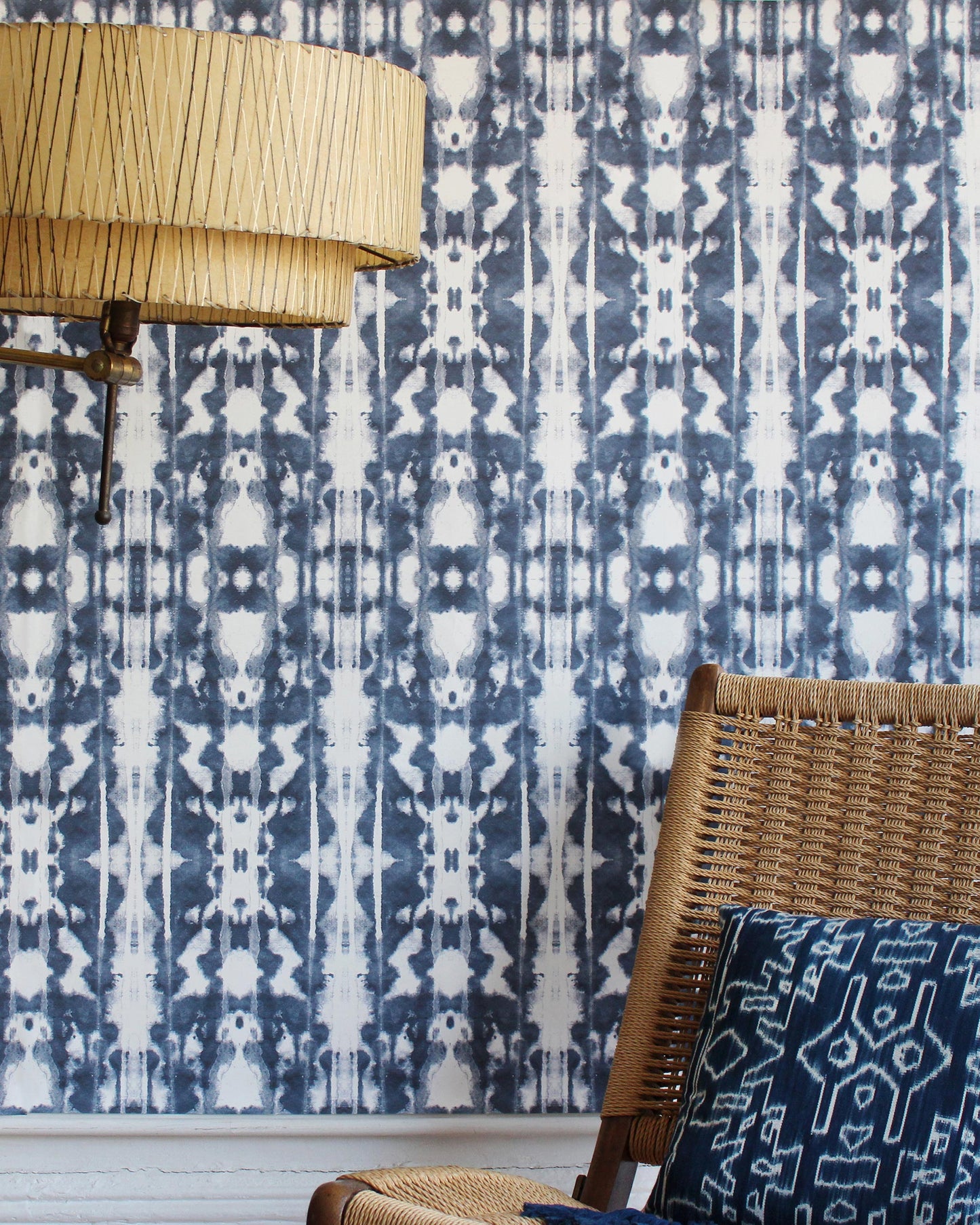 Collapsible content
Wallpaper Installation Guide

To learn how to get the best out of your classic clay-coated wallpaper, be sure to read our installation guide before cutting and hanging.

Classic Clay-Coated Wallpaper Technical Info

Classic wallpaper is a clay-coated paper manufactured with responsibly sourced fiber by suppliers who adhere to one of the globally recognized forestry chain-of-custody programs. It comes in a standard roll size of 27 inches by 15 feet. Single, double, triple, and sometimes quadruple rolls are available.

Our Classic clay-coated papers are manufactured with responsibly sourced, elemental chlorine-free fiber, and all suppliers adhere to one of the globally recognized forestry or chain-of-custody programs, including Forestry Stewardship Council (FSC), Sustainable Forestry Initiative (SFI), program for the Endorsement of Forestry Certification (PEFC), and Canadian Standards Association. Our paper supplier is both an ISO 9001:2000 and ISO 14001:2004-certified company. It creates approximately 50% of its electricity through low-impact hydroelectric generators and has been designated by the EPA as a National Performance Track Company. 100% of the mill's short-paper fiber is reclaimed and used in the agricultural industry for nutrient-rich compost or animal bedding.

Specs:

Material: Clay-coated, FSC-certified paper pulp

Flame Spread Class: Class A (ASTM E84)


Classic Clay Coated Wallpaper Installation Guide

Eskayel highly recommends consultation with a professional paperhanger prior to installation.

These instructions are for our classic clay coated wallpaper only.

Measurement Guidelines  

We recommend measuring with a yardstick or steel tape measure. Make your measurements in feet and round off to the next half foot or foot. 
Measure the wall height from the floor to the ceiling, excluding any baseboards or moldings. Then measure the length of the wall without deducting for windows or doors (this will leave you extra wallpaper in case you may need it). Multiply the two measurements to find the surface area of the wall.
Single rolls of our paper are 15 feet long and 27 inches wide, with one roll covering about 30 square feet. To find the number of rolls needed to cover your wall, multiply the height and the width of the wall by rounding up each length to the nearest foot. Then divide by 30.
Example: For a wall that is 10 feet 6 inches high by 9 feet 4 inches long, round up and multiply 11 feet by 10 feet to get 110 square feet. Divide 110 by 30 and you will get 3.6. In this case you will need five rolls. (If the number divides out to be .5 or above, you will need to add one more roll on to be safe. If you were to get 3.4, four rolls would be enough, but if you get 3.5 to 4.4, you will need five rolls.)
If you are unsure, please contact us before making a purchase.

Wall Preparation

Wall should be prepared to a smooth, clean, and dry surface prior to installation. Wallcovering will not hide flaws such as nail holes, bumps, or dirt.
Primer sealer should be used on unpainted drywall or glossy paint. Use acrylic wallcovering primers: Professional Ultra Prime (PRO-977), Golden Harvest White Bite, or Allpro Ultra Prep 685. Priming provides a sound surface that wallcovering will adhere to.
It is recommended to strip down the previous layer(s) of wallcovering. The wallcovering may seem to be firmly adhered to the wall, but the addition of another layer can cause adhesion failure.

Paste Information

Clear adhesives such as Professional Ultra Premium Heavy Duty Clear Strippable (PRO-880), Golden Harvest GH-34 Clear Stripable, and Allpro Pro-Duty 3400 provide good adhesion and allow for easier stripping when the wall covering is to be removed or replaced.
Clay adhesives such as Professional Extra Strength (PRO-732), Professional Clay Strippable (PRO-774), Golden Harvest GH-40, Allpro Extra Strength Vinyl 600m, and Allpro Clay Strippable 661 have also been shown to be effective both during installation and in the removal of these wallcovering materials.
Pastes such as Professional Heavy Duty Clear PRO-838 or Allpro Clear Hang 610 have a more aggressive adhesion and should be used for more permanent applications.
Vinyl-over-vinyl pastes tend to dry too quickly on these products and are not recommended.
Apply a coat of the adhesive to paper using a half-inch nap paint roller. Book for 10 minutes.

Hanging Instructions

Do not use tape on image surface.
It is recommended to table trim the selvage at the trim marks.
Align top and adjoining edges. Smooth panels into place with a smoothing brush, starting at the center of the panel working towards the edges.
Use a plastic smoother to push air pockets to the edges.
The low wet expansion of these products allows double cutting at the seams.
Remove all excess paste from the paper using a lightly damp rag or sponge. Do not use a fully damp sponge as slight running may occur in heavy coverage areas. If any paste is left to dry, flaking may occur which can lead to spots from ink being pulled from the paper.
Overlapping the seams is not recommended.
Sustainability

Our wallpaper is manufactured with responsibly-sourced fiber by suppliers who adhere to one of the globally recognized forestry chain of custody programs.
Care

Gently wipe clean with a non-abrasive sponge or cloth with mild soap and water. We always suggest testing your cleaning method in a discreet spot on the wall before implementing in a large area. Do not use commercial solvent/ chemical cleaners or heavy abrasive scrub sponges.
U.S. & International Shipping

All North American shipping is via UPS/ Fedex ground unless otherwise specified, and delivery times vary according to shipping zone. Eskayel cannot be held responsible for delays once the package is in transit. Whenever possible we recycle boxes and packaging material, so if your order comes in a used box think of it as our tiny contribution to saving the planet from more waste. Orders over $100 require a signature unless specifically waived by the end receiver. If signature delivery is waived, Eskayel is released from any and all  liability for missing packages. Fees apply for address changes made after an order has shipped and for returned packages.

Eskayel does ship internationally to most countries around the world. Canada and Mexico are both considered international. We ship with a USMCA certification on all goods. However, orders over $20 sent via commercial carriers (UPS, Fed Ex, DHL, etc) may incur clearing fees and taxes which are the responsibility of the buyer.

Disclaimer: Many countries charge import duties and/or custom's fees which are the responsibility of the buyer and are paid upon delivery by the buyer. Eskayel cannot estimate these fees as they vary from order to order. If you are unaware if your country charges duties or what the duties will be, please contact your postal authorities to receive more information.
Returns & Exchanges

Eskayel does not accept returns. All of our products are custom made to order, and we highly recommend purchasing samples before ordering larger goods. If you believe your product to be defective and it has not been used or installed, please contact us within 10 days of delivery so we can review your issue.
Product Variation

Due to the bespoke, small batch nature of our products, variations can occur. Fluctuations in the digital printing process, textures of woven natural fibers, and small -batch custom dying of yarn are all issues that can contribute to variation, but at the same time also offer a one of a kind feeling to our  products. We strive to retain a standard consistency but allowances are made for up to a 10% tolerance of variation.
Grasscloth

Handwoven, earth-friendly sisal fiber backed with chemical-free paper and printed with water-based inks.

SHOP GRASSCLOTH

Fabrics

Travel and nature inspired, our prints and patterns are available in the fabric and colorway of your choice, made to order in the Northeast.

SHOP FABRICS
Looking for Commercial Use?
All of our patterns are available on contract-grade wall-coverings, textiles, carpets, and rugs.
LEARN MORE